Hawkins owes its name to Fred T. Hawkins, a builder, and true kiwi entrepreneur. From small beginnings in Fred's Hamilton garage, Hawkins has seen healthy growth over seven decades.
In 1951 the Hamilton-based company listed on the New Zealand Stock Exchange (now NZX) and over the next four decades grew an ever-widening client and regional base.
By 1979 Hawkins had regional offices in Central North Island, Auckland, Taranaki, Wellington and Christchurch.
In 1983 privately owned engineering and construction business, McConnell Dowell merged with Hawkins Holdings Limited and Hawkins continued trading as part of McConnell Dowell Corporation. Through this merger, Hawkins developed considerable experience in international contracting, through McConnell Dowell's broad international operational base. Hawkins provided management and supervisory resources for projects in Guam, Hawaii, Saudi Arabia and the Pacific.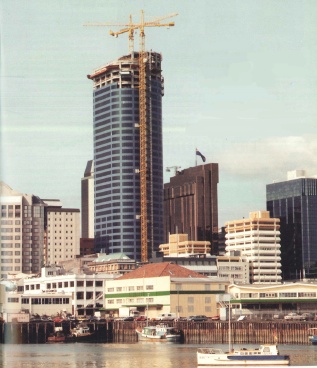 To respond more effectively to the changing demands of the construction industry Hawkins established its head office in Auckland in 1988.
In 1994 following McConnell Dowell's decision to return to its core civil business, Hawkins was sold back into private ownership.
In 1996 the McConnell Family invested in 50% of the Hawkins business and by 2002 had purchased 100% shareholding. Click here to visit the McConnell Group website.
In April 2017 Downer acquired specific Hawkins projects, agreed assets, the forward pipeline of work and employees.
Legacy projects and a number of ongoing projects were retained by Orange H Group.
Downer & Co. was founded by Wellington engineer Arnold Downer in 1933, but the company is able to lay claim to a far longer history than those 80-plus years, given a lineage that stretches back to New Zealand's Public Works Department established in 1970 and the Post and Telegraph Department in 1880.
Today Downer stands as one of New Zealand's pre-eminent infrastructure construction and operations companies, and a successful part of its parent, Downer Group.
To learn more about Downer's history, visit their website.
Customers benefit from Downer and Hawkins' combined technical and project management expertise and, by partnering with local firms using local subcontractors, it also benefits local business.
Hawkins continues to invest in technology, innovation, and continuous improvements while sustaining a strong focus on health and safety, thus ensuring that we will continue to build better communities for many future generations to come.
1946
Fred Hawkins founds FT Hawkins Ltd in Waikato.
1950s
The first of many NZ Dairy Co Operative projects which were integral to the growth of the company.
1951
Hawkins Holdings Ltd listed on the New Zealand Stock Exchange -an umbrella company for FT Hawkins Ltd, Steelfab Ltd and Melville Properties Ltd.
1962
Fred Hawkins leaves FT Hawkins Ltd.
1963
Name changed to Hawkins Construction.
1972
Branched out into Auckland; built the Human Sciences building at Auckland University – this $8 million dollar project was the largest construction project in Auckland at the time.
1979
Hawkins sets up regional offices in Central North Island, Auckland, Taranaki, Wellington and Christchurch.
1980s
Hawkins' emphasis moved from self-performing to subcontracting.
1980
A new subsidiary Hawkins Development was established; this later became a leading property development company in Auckland.
1982
McConnell Dowell merges with Hawkins Holdings Ltd in a reverse takeover.
1986
Hawkins head office relocates to Auckland.
1988
First of the many Auckland International Airport projects.
1990
Hawkins Construction builds the Robert Jones Tower in Auckland, the tallest building in New Zealand at the time.
1994
Hawkins sold to Martin Hansen and Associates.
1996
McConnell family reinvest in Hawkins and by 2000 have a 100% shareholding.
2007
Hawkins Infrastructure was formed.
2012
Harker Underground Construction becomes part of Hawkins Group.
2017
In April 2017, Downer New Zealand acquired specific Hawkins projects, agreed assets, the forward pipeline of work and employees.
Hawkins continues to grow and help New Zealand communities thrive.
2021
Hawkins celebrates 75 years of building with pride in Aotearoa!